Sol Trigger, Imageepoch's latest RPG and final PSP title, will be released in Japan on October 4th. A demo (http://www NULL.siliconera NULL.com/2012/08/17/sol-trigger-demo-will-be-an-hour-long-starting-with-an-anime-opening/) for the game, featuring an anime intro and about an hour of game play with a tutorial, will be available in September.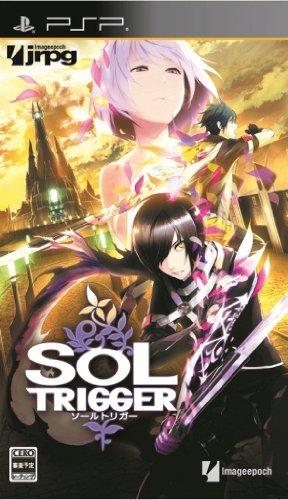 Set in the city of Kaiserhald, Sol Trigger's story (http://www NULL.siliconera NULL.com/2012/07/05/sol-triggers-story-is-about-killing-a-god/) focuses on the miracle-making energy source known as sol. The Machine Church, an organization that seeks to utilize technology and the nation's sol source, is opposed by the Sol Trigger group, who are against the church's actions because that source of sol is the citizenry. Yes, that's right, just like how soylent green turned out to be people, so too is sol.
Sol takes an active role (http://www NULL.siliconera NULL.com/2012/05/14/sol-triggers-battle-system-has-characters-sacrifice-their-sol-to-power-up-an-attacks/) in Sol Trigger's combat as well. To use skills, you must sacrifice some of yourself – some of your sol – to active them. The level of the corresponding attack is based upon what you put into it, and it's entirely possible to leave yourself a breath away from death's doorstep. Weapons, however, don't require sol, and new skills are learned as weapon proficiency increases.
Plans for a North American release are unknown, but Imageepoch is hardly a stranger to our shores. The developer also created Luminous Arc and its sequel for the DS, which were published by Atlus; Arc Rise Fantasia for the Wii, published by Ignition Entertainment; and Fate/Extra for the PSP, published by Aksys, among other titles. Most recently, Imagepoch has partnered with Namco Bandai for the NA release of its upcoming RPG, Toki to Towa, although, the release date has yet to be confirmed. Perhaps the largest barrier to the title's localization is the end of development and support for the PSP.
Our own David Fernandes compiled more Sol Trigger videos about a month ago, which can be viewed here.