The developers who spoke during the Wii U Software Showcase @ E3 2013 Event (and during their individual Developer Direct videos) seemed to communicate one central message: the games coming this year aren't just "another new game in the franchise." Each of this year's coming releases from Nintendo features familiar tropes and familiar faces, but…according to the developers, all of them offer their own unique twists.
We played a lot of games when we attended the event, but we missed out on hands-on time with Yoshi's New Island and The Legend of Zelda: A Link Between Worlds…until Scott and I decided to venture back to the Nintendo booth near the end of our first day. After finally getting ahold of Yoshi's New Island, I began playing and thought, "Oh… This is the same thing as the DS game before it, and the SNES game before it." And then, ladies and gentlemen, there was a giant egg.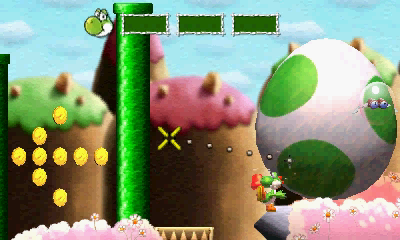 It really took me by surprise, you guys. There I was, in the middle of the same Yoshi's Island gameplay as many of us have experienced before…and then I saw a giant egg. Yoshi picked it up, sort of…became…the egg, and…similar to when I let a smaller egg rip, I aimed, I fired, and I destroyed.
But really…it's Yoshi's Island again. Yes, there are new levels. There's probably a new cute tale to go along with the "new island," and there's a new aesthetic that seems to be a popular trend. But this is the same Yoshi's Island gameplay you've already experienced across two platforms. What will set this game apart involves how many of the big-egg-type twists are strewn about it. I'd be perfectly fine playing through another Yoshi's Island if the game offered the occasional surprise from time to time. If you stick to the same formula too consistently, though…that's when it could be a problem.
I was turned off by the DS outing because it suffered from too much predictability. This 3DS outing looks like it could fall into the exact same trap, except for that part with the big egg. I played all three levels of the demo and fought the boss at the end. It's the same as it's always been, with only a surprise or two.
If it's just a handful of surprises versus a plethora, I must err on the side of caution versus optimism. I love Yoshi to pieces, but I hope his latest outing manages to break free of tradition and truly become something new.
---
Nintendo
Yoshi
Yoshi's Island
Yoshi's New Island
---
---