Super Mario 3D World is not what I expected of a next generation Mario Wii U title. After two successful space outings on the Wii, I expected something closer in line to what we experienced in the Galaxy titles. Fortunately for me, though, this is not the case. I only played the first Super Mario Galaxy, and while it's a solid Mario title and probably a standout title for the Wii, it just didn't mesh with me like it did for others.
That said, Super Mario 3D Land for the 3DS didn't exactly impress me either. I found it difficult to determine depth, regardless of whether or not the 3D was on, and the entire experience was just so…Mario. Again, no fundamental flaws, but just so expected, which brings me to Super Mario 3D World, a title, that at first glance, I wouldn't be excited for.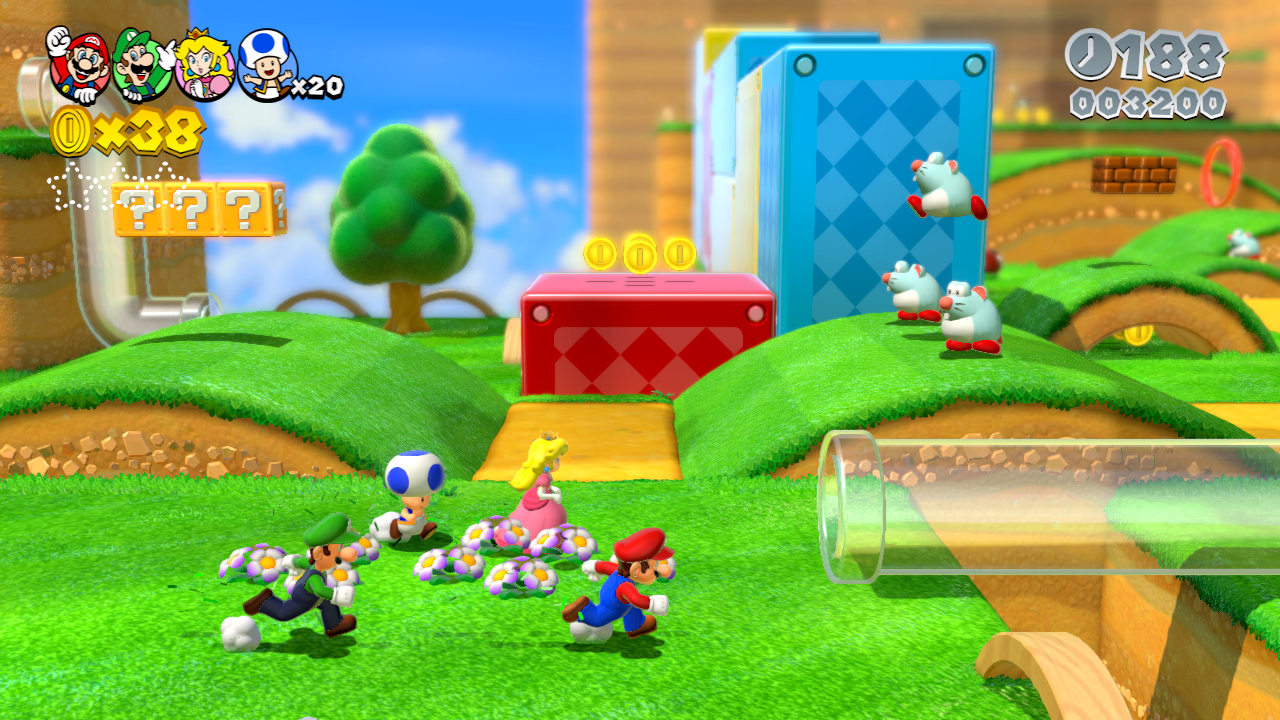 And yet I do find myself excited by the title. The change of venue has all but erased any depth issues I found with the previous entry, and the addition of 4-player co-op, previously explored in New Super Mario Bros Wii, seems like a no-brainer for the game's large levels. Granted, I only had a chance to play two levels (I watched two others), the level design seems large enough to accommodate 4 players without utter chaos consuming the gameplay. Of course, if that's what you want, you can still pick up your friends and chuck them off cliffs. They probably deserve it anyway.
Of course, this wouldn't be a new Mario game without a new suit, and Mario's cat suit is…an interesting twist on the suit dynamic of previous iterations. First, it's more active. Unlike throwing fireballs from a distance, fluttering away with a helicopter hat, or sliding on your belly as a penguin, the cat suit allows you…to be a cat. You can claw at enemies directly in front of you, scamper up and cling to walls, and perform a dive from the air to quickly lunge at poor Goombas and Koopas. It's also kind of cute, I guess.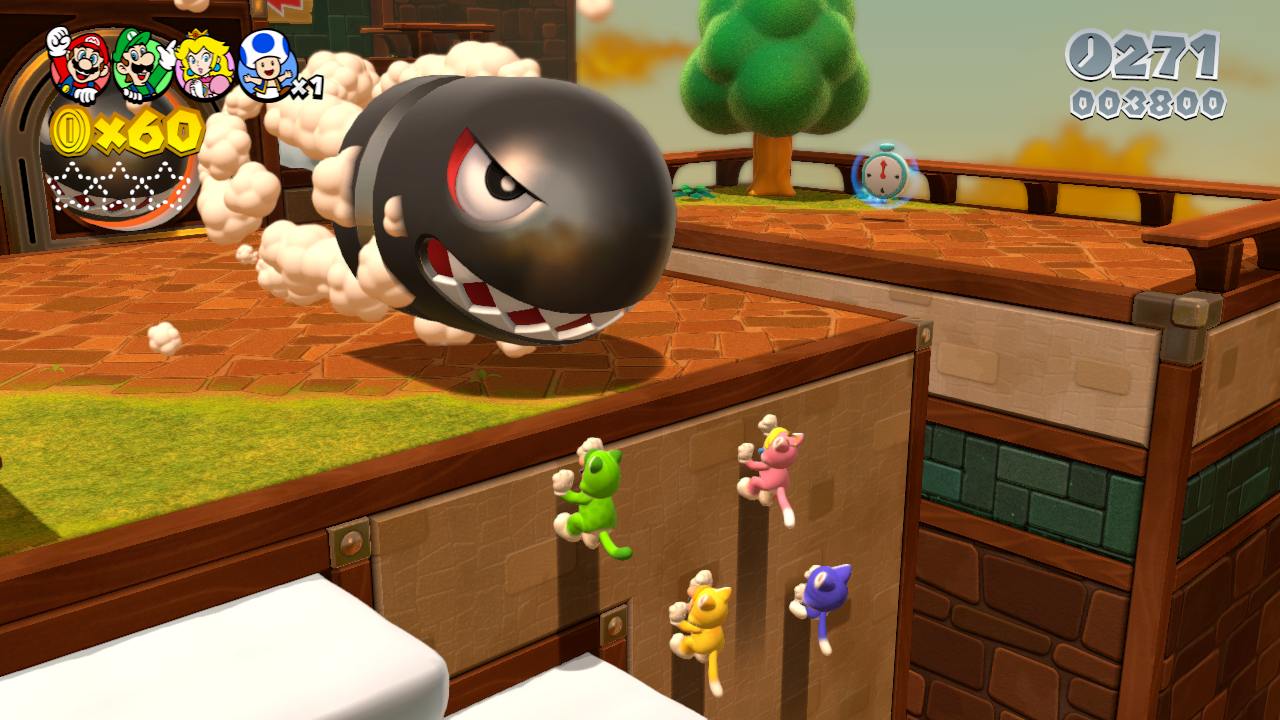 While the graphics and music are the typical Mario affair, there are some rather nice touches if you pay attention. The water is shiny and reflective (and fun to splash in), and shadows of clouds slowly drift by as you run around stomping, collecting, and generally being a menace to Bowser's underlings. Textures are smooth, and I didn't catch a single jagged edge during my time with the game. The dust clouds behind your characters as they sprint is a nice touch, too, and rays of light often breach the clouds with bright beams and appropriate shadows on objects.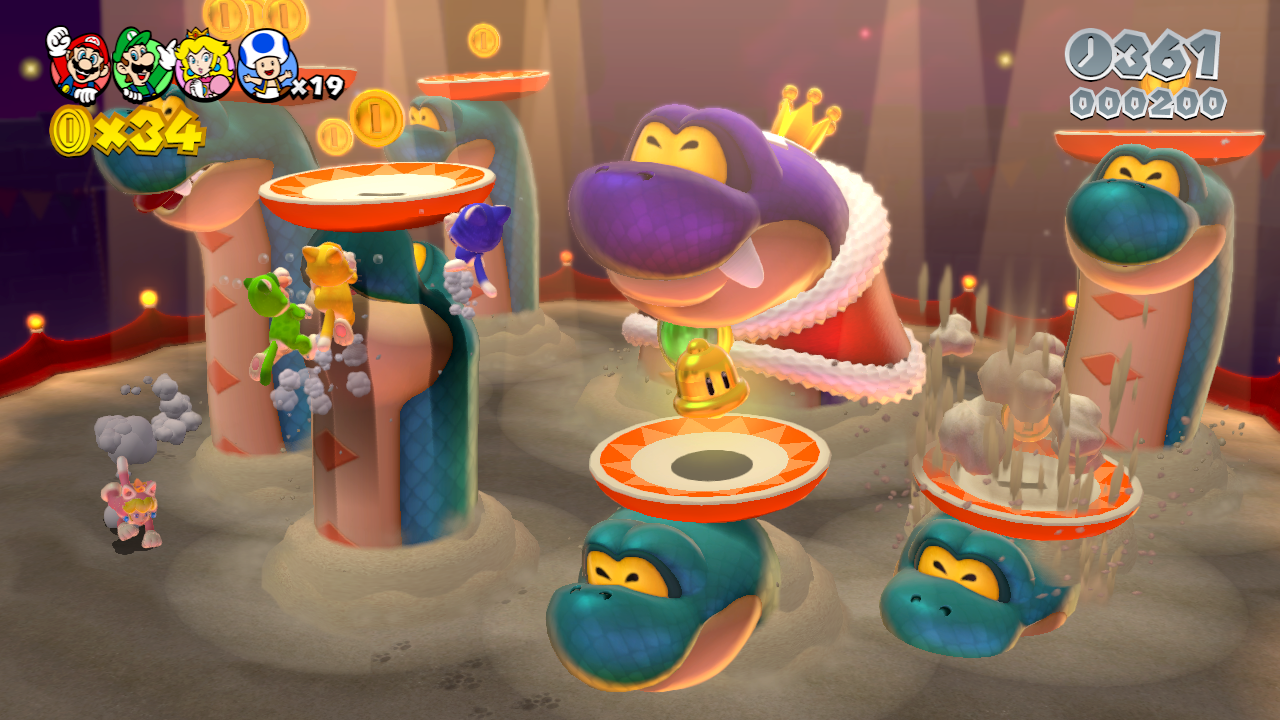 Super Mario 3D World lets you choose between Mario, Luigi, Toad, and Princess Peach, which is a nice touch since we haven't seen that setup since Super Mario Bros. 2. Each character handles differently and has a unique mechanic to their play style. Mario is…well, Mario. Luigi jumps high, but has slippery footing. Toad runs faster than other characters, but his jump is a tad shorter, too. Peach can float, which is just awesome because she was always my favorite character in SMB2. Before you go thinking that I've been blinded by nostalgia, though, I do have several other considerations.
The gameplay is more diverse. While most stages see you doing what Mario does best, there are stages that break the norm. For instance, I played a level with another gamer in which we guided a giant Yoshi-like dinosaur down a raging river as we tried to hit coin rings, avoid enemies, and pick the right path to collect all the level's green stars. There are three in each level, which is reminiscent of the star coins of previous titles. I've no idea if they serve a purpose beyond the obvious, though.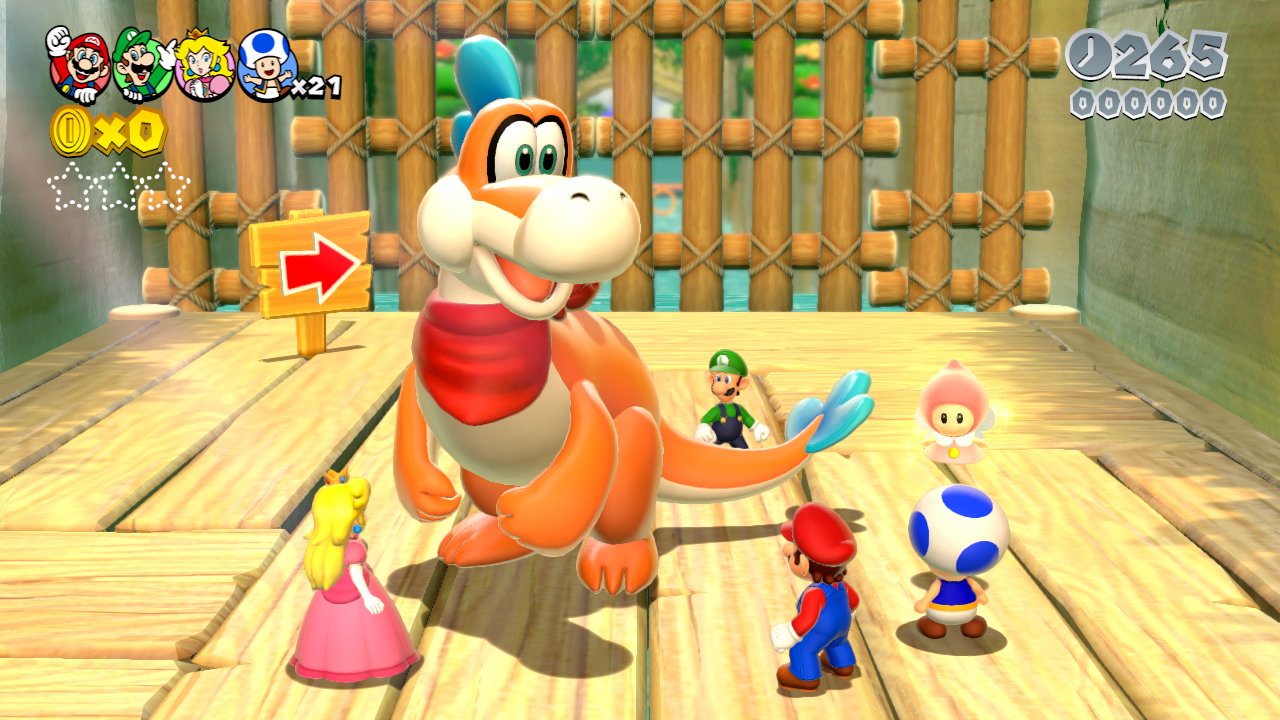 The cat suit mixes up the platforming. It's such a simple addition, but the ability to scamper up a wall is quite delightful, and it adds a touch of Prince of Persia style speed and action to the game play. I'm interested to see how far they can take the mechanic, especially when it comes to the later levels. There are also conveyor belt walls and transparent warp pipes that take you on a one-way trip, which I imagine will pop up in all sorts of places. I'll also go out on a limb and say that this isn't the only suit that we'll see.
There is a missed opportunity, however. When playing multiplayer, if one player goes too far off screen, they return in a bubble, exactly like they did in New Super Mario Bros. Wii. Since the Gamepad displays the same content as what's shown on the TV, it seems like you could split the screen between the two players when they separate. It's a small issue, but it would maintain the game's pace when players separate. Granted, there has to be some limit how far away players could be from each other, but it seems like the Gamepad could add a little extra real estate to game. As it is, the Gamepad didn't seem to have any unique features. You can touch the screen to reveal secrets, but this mechanic wasn't clearly demonstrated during the demo.
After all the "New" Mario games we've been treated to the last few years, Super Mario 3D World is a breath of fresh air, and despite the previous entries title's, actually feels new. I'm still watching the game with a cautious eye, but as it stands, Super Mario 3D World has exceeded my expectations, at least for the time being.
---
Mario
Nintendo
Super mario
Super Mario 3D World
Wii U
---
---