Despite the fact that nearly every other person in attendance had a 3DS (as made obvious by the sheer number of people street-passing); the demos on the show floor were much more difficult to spot.  After navigating the ocean of Wii U consoles and finally finding a demonstrator with a 3DS and Luigi's Mansion, I finally got some hands-on time with the game.  After nearly 30 minutes with the game, I'd say that it was worth the trouble.
The demo started off by dropping Luigi straight into the action, walking up the pathway to the mansion gates. I didn't really get to see too much of the story in the demo, but Prof. E. Gadd is back, as are Luigi's signature flashlight and an upgraded version of the vacuum from the first game, the Poltergust 5000.
My first task in the demo involved walking up to a garage to find a pair of ghosts causing havoc. However, the main mansion door was locked, which meant finding a key and chasing mice, standard fare for Luigi's Mansion so far. Once inside, however, things started to get far more interesting.  My first puzzle inside the mansion involved running up a staircase releasing a lever to lower a chandelier, and running down the stairs in time to grab a bulb from the chandelier to power up my flashlight.
A lot of other staples appeared, such as sitting on a toilet to mysteriously shoot through the sink in the next room over, vacuuming up rugs to collect coins and cash, and finally culminating in a battle with a few pesky ghosts once I ended up in the garage.
Capturing the ghosts involved charging my flashlight to release a burst of light, which in turn stunned them and allowed me to weaken them with the Poltergust.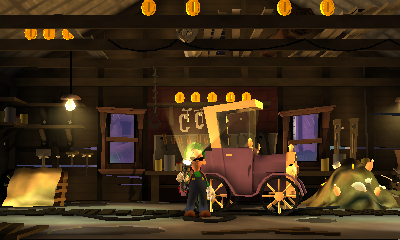 While the gameplay was fundamentally the same as the first game in the series on Gamecube, the graphics definitely stood out with a bit more color and interaction. The game seems to be a bit more puzzle based than the original, and the 3D effect definitely enhances the scares. The original game had a "Game Boy Horror" that allowed you to scan the area and look around the room. Dark Moon expands on this concept with a DS-shaped device and features gyro camera controls while in this mode. Once again, when you are vacuuming, you are automatically set to strafe and do not have a full range of motion, but if you were able to adjust to this method of control in the Gamecube original, you'll have no problem adapting to this control scheme here either.
Overall, I had a great time with the game. The final build of the game will include multiple mansions, unlike the original game which only featured a single mansion. Luigi's Mansion is scheduled to launch Holiday 2012 for Nintendo 3DS.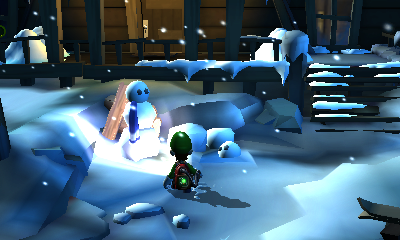 ---
3DS
Luigi's Mansion
Luigi's Mansion: Dark Moon
Nintendo
Nintendo 3DS
---
---