Title
Nitroplus Blasterz: Heroines Infinite Duel
Developer
EXAMU
Publisher
Marvelous
Release Date
February 2, 2016
Genre
2D Fighting
Platform
Playstation 4, PS3
Age Rating
T
Official Website
Nitroplus Blasterz: Heroines Infinite Duel is a follow-up to an old doujin fighting game called Nitro+ Royale: Heroines Duel  for the PC. This is a crossover fighting game featuring various characters from visual novels released by Nitroplus. While the game features some familiar faces like Saber from Fate/Zero, Saya from Saya no Uta, or AL from Demonbane there are also a handful of characters from visual novels that have not been localized. Perhaps that can change if this game does well commercially. There is a story mode which plays like your traditional arcade mode, training, online play with rankings and "Another Story" which continues after the Story mode.
This 2D fighter is very colorful with large sprites that are very well animated. The game is incredibly easy to pick up and play as each character's moveset is fairly small and uses only basic fighting game maneuvers, such as quarter circles or shoryuken motions. You have an escape action which can allow your character to quickly dodge an attack, which is effective against projectiles. The Variable Rush, which kind of reminds me of the custom combo system from Street fighter Alpha. Finally, you have the Infinite Blast which acts as a knockback attack and allows you to regain your health and power meter. In addition to these you have helper characters you can call with the partner buttons similar to Marvel vs Capcom 2 or 3. The Partner system is great however it leads to what I consider to be one of this game's flaws: the roster.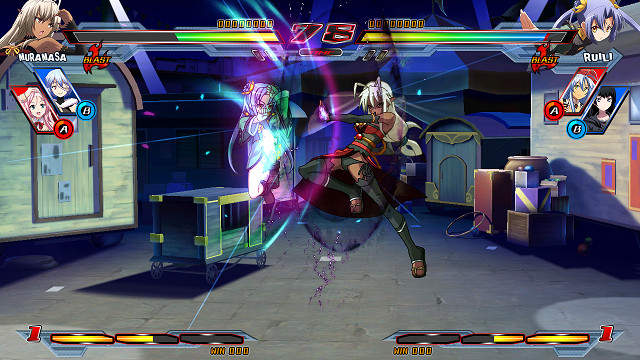 There are 12 playable characters, which is fine, but when you select a character you are taken to the assist character select and this roster is so much larger than the character select. I really wish more of these characters were playable as well, since they look so cool. I will also say these assist characters range from a simple move, to extending a combo, to just straight up overpowered. Some of the characters will unleash zombies on screen, while others will shoot massive lasers. It can get really wild on the battlefield when you and the opponent are using your assists. The backgrounds in the levels are fairly bland but with all the mayhem going on, you will likely not even notice the buildings or shrines in the background. The music is also great and compliments the action well. I really like Ignis' theme, I found it very catchy while fighting her.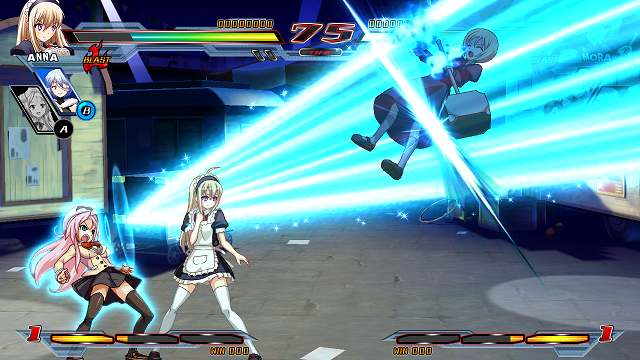 The characters that are playable are a really unique bunch. They all feel different and have such unusual movesets. My favorite characters are Muramasa and Ethica. Muramasa's grabbing and throwing mechanics are so much fun and Ethica wields a chainsaw blade and has a super move called "Dead of the Dead" That's such a cheesy, name I can't help but love it. Sonico is also a hilarious character to play as, since she uses her various cats or band members to attack her opponents. The super moves you can perform take up some of your super meter, which can be built up to three levels. Each character has an ultimate move that requires a full meter to perform. These moves have anime-style animations, which look great and they are very devastating even if you block them. The Story mode describes a mysterious being who is awakened and plans on causing all sorts of chaos and destruction. Heroes from various universes are brought together to fight each other and put a stop to this evil being. The story mode has you fight 8 battles and feels more like a classic arcade mode in other fighting games, than a true story mode with a fleshed out plot and characters. The game is not difficult in the default difficulty, however the final boss is noticeably more aggressive than the regular AI. Once you complete it with any character you unlock "Another Story" which continues off of the ending in Story mode.
Nitroplus Blasterz is a really fun title at $40 on PS4 and $30 for PS3. The story mode is very addictive and the easy moves and battle system makes this a great game for newcomers to jump into. Homura and Heart from the Senran Kagura and Arcana Heart series respectively will be released as DLC. Even better, the systems offer cross-platform multiplayer! After playing Nitroplus Blasterz I now really want to read some of the visual novels in which these characters originated. If a crossover fighting game can manage to do that, I consider it a success. Those of you who know these characters already will absolutely love this game! Check it out!
Review Copy provided by publisher.
---
2D
Demonbane
Examu
Fate/Zero
fighting
Marvelous
Muramasa
nitro+
nitroplus
Phantom
Senran Kagura
Visual Novels
---
---