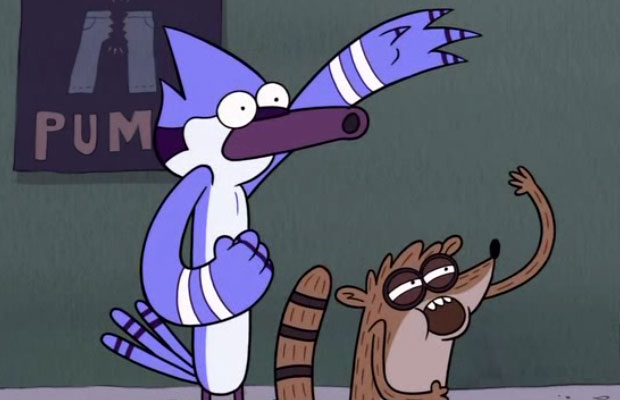 D3Publisher and Cartoon Network have released a press release stating that WayForward will be working on a couple new games this year. First off, they'll be teaming up with Pendleton Ward once again for a sequel to last year's Adventure Time: Hey Ice King! Why'd You Steal Our Garbage?!! This new game, which is appropriately called Adventure Time: Explore the Dungeon Because I DON'T KNOW! will be a four player co-operative game that allows you to play as Finn, Jake, Marceline, Cinnamon Bun, and other characters. It will also include the voice actors from the show, which the previous Adventure Time game lacked. Unlike the last Adventure Time game, this will be going multi-platform, as it's being released on the 3DS, Wii U, PlayStation 3, Xbox 360, and the PC.
In addition, WayForward will be working with J.G. Quintel to make a Regular Show game for the 3DS. Titled Regular Show: Mordecai and Rigby in 8-Bit Land. This game will have the main characters transported into their favorite games, so you can expect a lot of throwbacks to retro games. This game will be available exclusively for the 3DS.
Adventure Time: Hey Ice King! Why'd You Steal Our Garbage?!! was relatively well-received (http://www NULL.gamerankings NULL.com/3ds/670222-/index NULL.html), with its biggest problem noted in reviews being the length of the game. Hopefully, WayForward will be able to make the next Adventure Time game even better, as well as work its magic on this upcoming Regular Show game.
Source (http://www NULL.businesswire NULL.com/portal/site/topix/index NULL.jsp?ndmViewId=news_view&newsId=20130514005667)