In the game, you control both Sora and Riku. But rather than play through each character's story separately like with Terra, Aqua, and Ven in Birth by Sleep, the Drop mechanic is introduced. I'll give you a worst-case scenario right away: You're playing as Sora, struggling valiantly against a boss. You get him down to his last bit of HP and are feeling proud of yourself, when all of a sudden the game warns you—30 seconds and you're gonna DROP!  But whatever does that mean? It means…you have 30 seconds until you get to pick up right where you left off as Riku. And if you don't finish off that boss in 30 seconds, you're going to have to start all over again when you get control of Sora back.
That's right. That can happen. A lot of the time it's easy to see drops coming, and the game makes it simple enough to prevent drops from happening, but ultimately—the mechanic is cumbersome and annoying at best. I would have preferred both stories intertwining in a completely different manner. It's just…jarring to me, to be yanked from one character's story into another, without much choice in the matter.
Also new to this game: Dream Eaters. I want you picture Pokemon first, then Nintendogs, because that's the best way to describe these things. They fight alongside you, but the bulk of making them stronger is really just a pet simulator. You head into a whole sub-menu and have to show them affection by petting them with your stylus in order to unlock additional abilities for Sora and Riku. It's Nintendogs with in-game perks, level-ups, and abilities to unlock.
There's a ton of them to battle (because they are indeed the enemies you face in the game, similar to the Heartless, Nobodies, and the Unversed), create (through recipes or materials you claim from them), and love. Can you tell I'm not so thrilled? Despite the versatility in gameplay they provide (Sora gets to ride them, and they make Riku unleash devastating combos similar to the Drive system in Kingdom Hearts II) , I would rather have them be replaced with party members from each respective world.
Okay, maybe I'm just bitter because Sora couldn't have Donald and Goofy in his party despite all three finally being together again in certain worlds. But my lukewarm attitude towards the Dream Eaters stands—they're forgettable; I hope they don't make a return. And I normally love cute things; my first 3DS game was Nintendogs + cats, after all.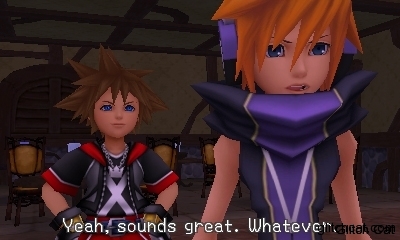 I feel like I've done the game justice at this point. This review is definitely meant for people who have played a Kingdom Hearts game a few times before but don't quite know what to expect with this particular outing. I promise you, there's a lot to enjoy, and the game has its unique charm. The way you travel between worlds, the worlds themselves, and the stories within each world are worth experiencing. And returning mechanics like the Deck system from Birth by Sleep (read: no need for Ethers or MP, but your magic takes time to work), as well as new mechanics like Flowmotion, make for some of the best possible gameplay of the entire franchise.
But I have to knock this game down a few pegs because most of the features that make it stand on its own are ultimately what cause it to fall short of what it could have been. I feel like some of these experimental mechanics and bits of story were thrown in just to cut corners because it's a portable title, and Birth by Sleep proved that Kingdom Hearts on the go could be so much more.
It's not the game of my dreams, but it's certainly worth dropping the cash for at some point, especially for diehard fans of the franchise.
Oprainfall's Review System:
5 Stars- A Must Own Game. Games don't get much better than this. We recommend you buy it if you can.
4 Stars- A Great Game. It's not perfect, but it's close. If you like the genre, you should like this game.
3 Stars- A Good Game. This game may have some flaws, but is enjoyable. Give it a try, you might like it.
2 Stars- A Poor Game. There is something off about this game. Fans of the series or genre might like it.
1 Star- A Bad Game. There are obvious flaws that keep the game from being enjoyable. We cannot recommend this game.
Pages: 1 2