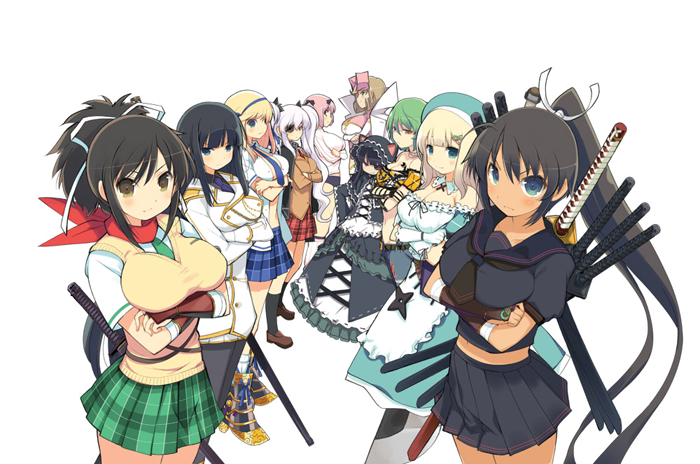 NOTE: This article is from the oprainfall Campaign Hub, written by an independent campaign, and hosted on the oprainfall website. The opinions herein may not represent the opinions of oprainfall.
It has been a very eventful year for Senran Kagura fans! A year ago it seemed unlikely that the series would leave Japan, but after a year of hard work the community has achieved a great deal. Senran Kagura Burst was released on the Japanese and Korean eShops, Funimation licensed the anime and began streaming it (http://www NULL.funimation NULL.com/shows/senran-kagura/anime), the first volume of the Senran Kagura Skirting Shadows manga has been released in North America (http://www NULL.amazon NULL.com/Senran-Kagura-Skirting-Shadows-Vol/dp/1626920265/ref=sr_sp-atf_title_1_1?s=books&ie=UTF8&qid=1384035751&sr=1-1&keywords=senran+kagura) with the next two volumes already having a set release date, and last but most certainly not least, Senran Kagura Burst will be released in both North America and Europe! The emotional rollercoaster of the occasional localization teasing by the series producer is finally over and the community can celebrate our well earned victory.
The localization announcement came just two months before the Senran International Academy's one year anniversary, which needless to say has given us a lot to celebrate. Rather than limiting our celebration to a day or week, we have had an ongoing celebration and have even more activities planned through November.
As part of our celebration we have been upgrading and adding a variety of features to our forums. Now that we have succeeded in one of our localization goals, among the various upgrades we have started to expand into a full-fledged online community with the addition of several general topic boards. To meet the growing needs of the expanding community we have increased our number of staff, but as we continue to expand we are always evaluating the need for more. We also have several Community Missions planned and other bonuses for the community, so be sure to check out the forums for more details. (http://senran-international NULL.boards NULL.net/thread/548/1-year-anniversary-status-update)
So keep your eyes peeled for more from the Senran International Academy! We have a lot of activities planned and we will continue to grow as the premier Senran Kagura community! For fans in North America, be sure to download Senran Kagura Burst from the Nintendo eShop on November 14th! Stay tuned for updates on the European release date!
If you would like to get involved with our other community outlets or learn more about the series, be sure to check out the Senran Kagura Wiki (http://kagura NULL.wikia NULL.com/wiki/Kagurapedia), our community has been working hard to develop it and would love for you to get involved. Don't forget to follow us on Twitter (https://twitter NULL.com/SenranInterAcad), like us on Facebook (http://www NULL.facebook NULL.com/pages/Senran-International-Academy/269180386535793), and join our forums (http://senran-international NULL.boards NULL.net/) for updates on all things Senran Kagura!
Source (http://www NULL.hanzonationalacademy NULL.com/)