We're extremely happy to (finally) announce that The Downpour Podcast is available on the iTunes music store (https://itunes NULL.apple NULL.com/us/podcast/oprainfalls-downpour-podcast/id645737018)! If iTunes isn't your cup of tea, you can still check out this page for an archive of past episodes! Lastly, be sure to follow the show on Twitter (https://twitter NULL.com/DownpourPodcast) for more interactivity!
---
Welcome to another Monday, and another very special episode of The Downpour Podcast!
This week: Jonathan, Jared and Randy learned what would happen if they switched up who hosted the show and recorded a full week in advance. You may notice a few…interesting results as you're listening. As far as news goes: Lots of Capcom love, some talk about figurines and toys (because comic book talk wasn't off-the-rails enough), and the tiniest of hints and what may be coming from oprainfall during E3 2013. As for what we've been playing: get ready for a discussion about multiplayer gaming.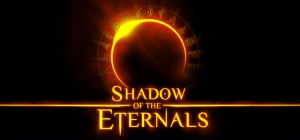 What makes this episode truly special, however, is that it includes an interview with some of the folks at Precursor Games—the ones behind Shadow of the Eternals. If our highlights weren't enough to have you drop what you're doing and go listen…there's over forty minutes of quality stuff here, ladies and gentlemen. It was an absolute blast for Jonathan and Josh to sit down with Denis Dyack and Shawn Jackson, to listen to what both had to say. We thank Precursor Games for taking the time to talk with us!
The interview goes from 47:32 – 1:31:20.
We really hope you enjoy. If you haven't already done so, you can take a look at the Kickstarter for Shadow of the Eternals here (http://www NULL.kickstarter NULL.com/projects/617502838/shadow-of-the-eternals). If you're truly hooked, you can follow the project on Facebook (https://www NULL.facebook NULL.com/ShadowOfTheEternals) or Twitter (https://twitter NULL.com/ShadowEternals). And finally, do check out the official website (http://www NULL.precursorgames NULL.com/shadowoftheeternals/), because there's sure to be more information on the horizon.
Don't forget, folks: E3 is just one week away. The Downpour Podcast, as an extension of the site, has all sorts of exciting things planned for you all. We hope you're excited about everything this episode has to offer, and all of what's to come!
Podcast: Play in new window (http://media NULL.blubrry NULL.com/totalcontrol/p/www NULL.operationrainfall NULL.com/Podcasts/Episode19 NULL.mp3) | Download (http://media NULL.blubrry NULL.com/totalcontrol/p/www NULL.operationrainfall NULL.com/Podcasts/Episode19 NULL.mp3) (Duration: 1:49:41 — 50.2MB) | Embed