Software Sales
| | |
| --- | --- |
| 01./00. | [PS3] Lightning Returns: Final Fantasy XIII <RPG> (Square Enix) {2013.11.21} (¥7.770) – 277.082 / NEW |
| 02./00. | [WIU] Super Mario 3D World <ACT> (Nintendo) {2013.11.21} (¥5.985) – 99.588 / NEW |
| 03./00. | [3DS] One Piece: Unlimited World Red <ACT> (Bandai Namco Games) {2013.11.21} (¥5.980) – 83.605 / NEW |
| 04./05. | [3DS] Pokemon X & Y <RPG> (Pokemon Co.) {2013.10.12} (¥4.800) – 72.932 / 3.002.738 (-12%) |
| 05./00. | [3DS] Aikatsu! Futari no My Princess <SLG> (Bandai Namco Games) {2013.11.21} (¥5.480) – 72.087 / NEW |
| 06./01. | [PSV] God Eater 2 <ACT> (Bandai Namco Games) {2013.11.14} (¥5.980) – 39.052 / 305.378 (-85%) |
| 07./03. | [PS3] World Soccer Winning Eleven 2014 <SPT> (Konami) {2013.11.14} (¥7.980) – 35.879 / 187.678 (-76%) |
| 08./02. | [PS3] Call of Duty: Ghosts – Subtitled Edition <ACT> (Square Enix) {2013.11.14} (¥7.980) – 29.252 / 219.883 (-85%) |
| 09./07. | [3DS] Monster Hunter 4 <ACT> (Capcom) {2013.09.14} (¥5.990) – 21.120 / 2.959.789 (-20%) |
| 10./00. | [PSP] God Eater 2 <ACT> (Bandai Namco Games) {2013.11.14} (¥5.980) – 20.508 / 132.531 |
| 11./00. | [PS3] Monster Hunter Frontier G: Beginner's Package <ACT> (Capcom) {2013.11.20} (¥6.090) – 19.334 / NEW |
| 12./00. | [WIU] Taiko no Tatsujin: Wii U Version! <ACT> (Bandai Namco Games) {2013.11.21} (¥5.480) – 19.265 / NEW |
| 13./00. | [PSV] New Atelier Rorona: The First Story – The Alchemist of Arland <RPG> (Gust) {2013.11.21} (¥6.090) – 17.536 / NEW |
| 14./00. | [PS3] New Atelier Rorona: The First Story – The Alchemist of Arland <RPG> (Gust) {2013.11.21} (¥7.140) – 14.060 / NEW |
| 15./09. | [PS3] Grand Theft Auto V <ACT> (Take-Two Interactive Japan) {2013.10.10} (¥7.770) – 13.548 / 593.370 (-33%) |
| 16./06. | [3DS] Daigasso! Band Brothers P <ACT> (Nintendo) {2013.11.14} (¥4.800) – 12.635 / 52.831 (-69%) |
| 17./12. | [PS3] Jikkyou Powerful Pro Baseball 2013 <SPT> (Konami) {2013.10.24} (¥3.980) – 9.485 / 190.659 (-30%) |
| 18./10. | [PS3] Battlefield 4 <ACT> (Electronic Arts) {2013.11.07} (¥7.665) – 9.134 / 150.124 (-53%) |
| 19./11. | [PSP] World Soccer Winning Eleven 2014 <SPT> (Konami) {2013.11.14} (¥3.980) – 7.624 / 24.600 (-55%) |
| 20./16. | [3DS] Sentouchu: Densetsu no Shinobi no Survival Battle! <ACT> (Bandai Namco Games) {2013.10.17} (¥4.980) – 7.046 / 102.350 (-12%) |
Hardware Sales
| | |
| --- | --- |
| 3DS | 84.506 |
| PS Vita | 28.912 |
| Wii U | 21.002 |
| PS3 | 12.436 |
| PSP | 3.546 |
| Wii | 457 |
| Xbox 360 | 342 |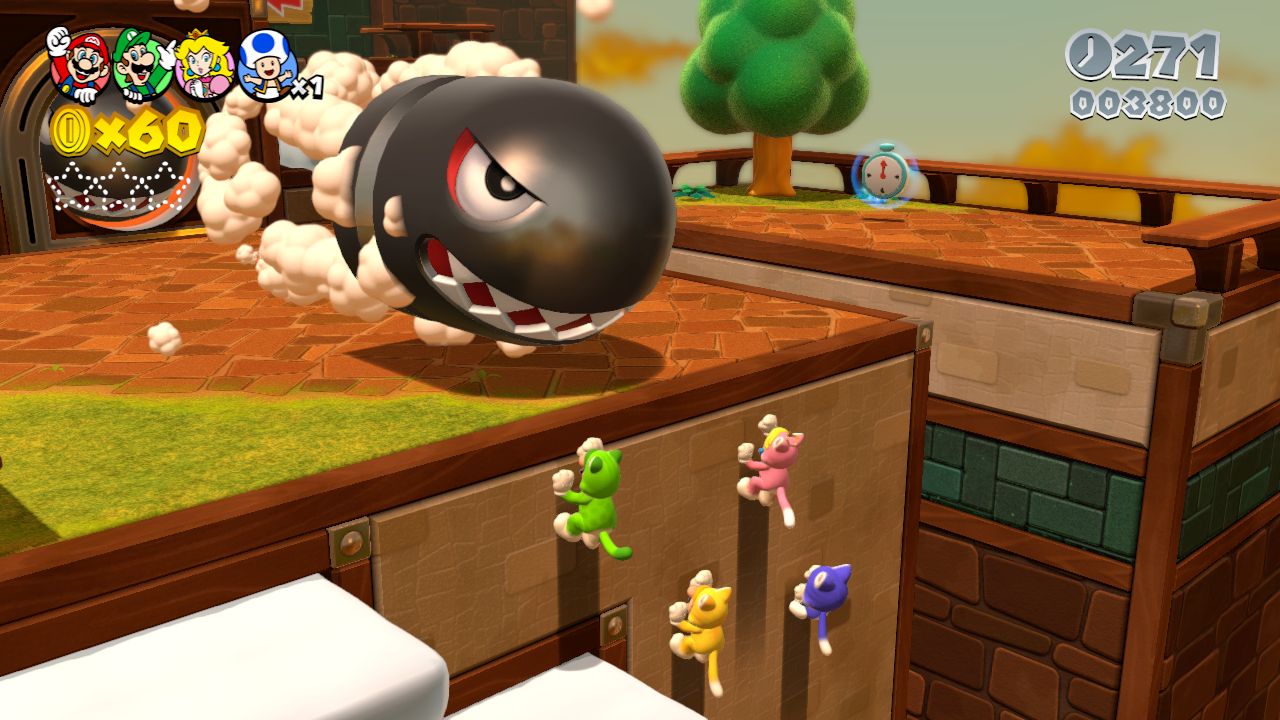 Ouch.
| | |
| --- | --- |
| Super Mario 3D World | 99.588 |
| Wii U | 21.002 |
Just… Ouch.
This is unfortunate for Nintendo. Their flagship franchise doesn't seem to have the power to raise the Wii U, at least not by itself. If nothing else, we can say that Super Mario 3D World has had the most successful first week on the Wii U. And that seems to be improving with each release. It may dip with Mario & Sonic at the 2014 Sochi Winter Games game but Wii U software performance should pick up again after that.
It's also worth noting that 3D Mario games tend to have legs after the first week. It may not reach the near 2,000,000 units sold by Super Mario 3D Land, but it's possible that it could reach the same 789,000 units that  Super Mario Sunshine sold in Japan.
What else do we have on our Wii U savior list?
Sonic Lost World
Wii Fit U
Wii Party U
Wii Sports Club
Super Mario 3D World – (Subject to change)
Mario & Sonic at the Sochi 2014 Winter Olympic Games (12/05)
Donkey Kong Country: Tropical Freeze (February 2014)
Mario Kart 8 (April 2014)
Bayonetta 2 (2014)
X (2014)
Super Smash Bros. (2014)
Over on the Vita, we get some interesting information on how much of an impact the Vita TV is having on the Vita console line.
| | |
| --- | --- |
| PS Vita | 21.044 |
| PS Vita TV | 7.868 |
So apparently, a micro-console version of a portable console isn't something that will spark sales in a region that loves its portable consoles. I wonder how Japan will take to Tearaway when it releases on December 5th.
In the race to 3 million physical copies sold, Pokemon X & Y passes the mark and leaves Monster Hunter 4 in its dust. Monster Hunter 4 should hit that mark soon enough.
As for the console itself, the Nintendo 3DS has hit the 4,000,000 mark in Japan for the third straight year. And they hit the mark at the same time they did last year. Here are the numbers after 47 weeks for the past three years:
3DS: After 47 Weeks
2011
2.678.016
2012
4.138.328
2013
4.032.539
The 3DS eventually eclipsed the 5,000,000 mark last year. It could still make it this year, but the 3DS will could have its work cut out for it with the only major release before the end of the year being The Legend of Zelda: A Link Between Worlds. We'll see what happens.
One notable release this week is New Atelier Rorona: The First Story – The Alchemist of Arland. A PS3/Vita remake of the original 2009 game, features a number of changes to make it easier to get into as well as new features. You can check them out in the article we wrote on the reveal. No word on whether this will see release in the west.
Seems like I'm forgetting something…
Oh yeah, Lightning Returns: Final Fantasy XIII released to 277,082 units sold. It was good enough for first on the Media Create charts this week but it probably won't sell as high as the 900,000 units sold that Final Fantasy XIII-2 reached.
---
Japan
Media Create
Super Mario 3D World
---
---