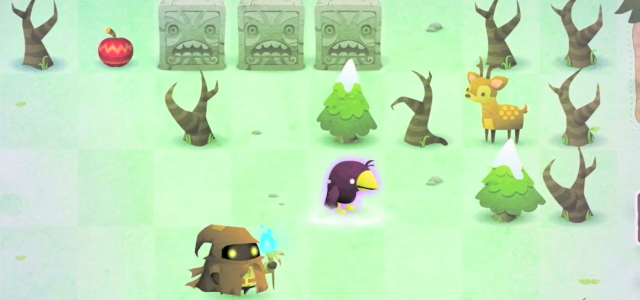 Road Not Taken is an upcoming roguelike puzzle title from Spry Fox. Players will control the fate of a small, hooded figure that has lost their way in the midst of a blizzard. Left to the elements without a clear path in sight, players must maneuver their lost traveler through a forest full of unexpected and ever-changing challenges. David Edery, CEO of Spry Fox, has promised that while players will meet their demise often, no two journeys into the woods will be quite the same.
It's no coincidence that Road Not Taken shares a name with the famous poem by Robert Frost about a traveler faced with diverging paths in the woods. These paths can also represent the choices we make and how it impacts our lives, for better or worse. Daniel Cook, Chief Creative Officer at Spry Fox, posted a blog entry today exploring this theme as it pertains to the game and his own personal experiences. Road Not Taken is a reflection of his own unconventional path in life, which has left him in a place he hadn't necessarily expected. He muses on the ups and downs that he's experienced, and which have inspired this particular game. The blog post also reveals that players' interactions with NPCs in-game will play a vital role in Road Not Taken, adding another dimension to the title past its puzzle-solving mechanics.
As Cook put it in his blog entry:
A surprising number of people I know are in a similar place. Their current life is not quite the simple arc they imagined it would be as a kid. Real arcs buckle and twist. I hope we are all richer for it.

So, back to Road Not Taken. It's a game that puts you in the shoes of a person who has fallen off the standard path. You live alone, outside the village, and every season a new storm arrives. The people of the village need you. There are tragedies and small delights. There are unexpected events and decisions.
You can read the entire entry here. Road Not Taken is planned for release in early 2014 for PS Vita and PlayStation 4 systems. Does this theme resonate with you? Interested in the title? Can you recite Frost's poem by heart? Let us know in the comments.
---
PlayStation 4
PlayStation Vita
Road Not Taken
Spry Fox
---
---