As soon as the Wii U Software Showcase @ E3 2013 Event ended, I turned to my comrades and said, "I'm making a bee-line right to Zelda." And so I ventured towards the center of the room that had all the 3DS games with Zelda in mind, except… I ended up sitting down with Mario & Luigi: Dream Team. I'm not really sure how it happened, but I know a lot of us are big fans of the Mario & Luigi games, so I gave it its fair chance.
The demo offered me a chance to play in the real world and the dream world. Rather than give both modes a try for a little while, I ended up solely experiencing the real world for the entire time I sat down with the game. The demo told me to find someone, then cut me loose in a fully 3D-rendered world.
That's right, folks: you've seen it in the trailers. This art style is a complete departure from the previous Mario & Luigi outings. The 3D models and world mesh well together. I thought I wouldn't like the art style, but… I felt kind of indifferent towards it; the departure from what series veterans are familiar with didn't bug me. I suppose I kind of relate it to how I feel about the graphics of Pokemon Mystery Dungeon: Gates to Infinity. But, graphics and sound aren't really what I'm here to talk about this evening.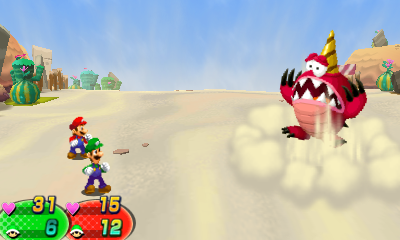 If you've played previous games in the Mario & Luigi series: everything that makes the series what it is remains intact. The battle system is faithful to previous outings; things like earning experience, leveling up, equipping clothes, and badges haven't been tampered with. Also: controlling the brothers separately in the real world, and having them perform cooperative moves outside of battle… that can be expected to, with a few new twists specific to Dream Team.
If you've not played previous games in the Mario & Luigi series: First of all… go play Bowser's Inside Story because it's amazing. And play Superstar Saga on the Gameboy Advance if you're feeling bold. Anyway: Mario & Luigi is a long-running series that carries the torch/precedence set by Super Mario RPG, which is to say… it's fun, it's cut from a traditional 16bit era cloth, and it has a Mario twist. Jump to dodge attacks. Hammer stuff if you need to. Wait for that sweet spot moment and hit stuff for extra damage. Fans of this site ought to know the drill!
I could have experienced just a smidge of both modes of play that Mario & Luigi: Dream Team had to offer, but I played in just the real world for twenty minutes as if to say: those who've enjoyed the previous games will most assuredly enjoy this one, because it's not some radical departure like Super Paper Mario or Paper Mario: Sticker Star.
Expect traditional gameplay, folks. And when it comes to the Dream World where players control Luigi using the touch-screen and all sorts of antics ensue; that's where the game offers this aura of "expect the unexpected". I was pleasantly surprised to see Dream Team maintain the sense of greatness that one comes to expect from the long-running handheld Mario/Luigi RPG outings.
Mario & Luigi: Dream Team will be released for Nintendo 3DS on August 11. You can pre-order the game now from Amazon, Amazon.ca, Walmart and GameStop.
---
Dream Team
Mario & Luigi
Mario & Luigi: Dream Team
Year of Luigi
---
---