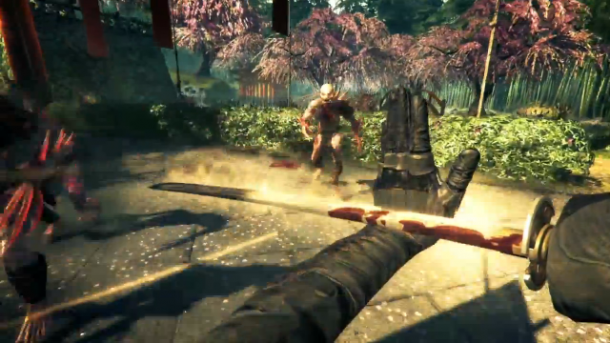 Devolver Digital has released a launch trailer for Flying Wild Hog's reboot of Shadow Warrior to coincide with the game's release on Steam (http://store NULL.steampowered NULL.com/agecheck/app/233130/) and GOG.com (http://www NULL.gog NULL.com/game/shadow_warrior). The trailer pulls no punches, demonstrating the game's over-the-top violence and presentation, mixed with the tasteless puns and stereotypical Asian jokes that fans of the original game (http://www NULL.gog NULL.com/game/shadow_warrior_complete) by 3D Realms will recognize.
For additional comedic effect, Stan Bush's "The Touch" is added to the soundtrack with fake praise by critics, Stan Bush and the protagonist, Lo Wang, through a stylish and ultra-violent montage. It all sounds very tongue-in-cheek and rarely appears to take itself very seriously. The combination of gun- and swordplay as you wield a wide array of destructive firearms and deadly sword techniques looks incredibly fun, and the first-person sword action may even remind you of Red Steel 2.
You can view the trailer below:
Shadow Warrior currently has a launch discount on Steam (http://store NULL.steampowered NULL.com/app/233130/). The regular version costs $35.99 (USD), and the Special Edition costs $44.99. The deal ends October 3. The Special Edition comes with supplements, such as a digital official soundtrack and an art book, as well as the Katana from Hotline Miami and the Sledgehammer from Serious Sam 3.

We don't typically cover Western first-person shooters, but Shadow Warrior appears to play differently and uniquely compared to other first-person shooters, and we hope you'll open up to try a game like this. For anybody who's wondering, the game's humor seeks to remain faithful to the original's, but the creators have consciously replaced its more racy and sexist jokes (http://www NULL.joystiq NULL.com/2013/05/20/reinventing-shadow-warrior-for-the-modern-era/) with "smarter"—but probably still tasteless—jokes.
Shadow Warrior is currently available for Windows and will be ported to next-gen systems on a later date.
SOURCE (http://www NULL.shadowwarrior NULL.com/)