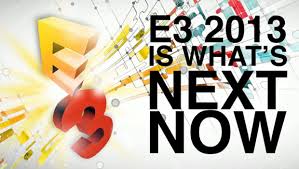 E3 2013: Monday June 10th- Thursday June 13th
Hey everyone! With E3 just around the corner I wanted to give a quick synopsis about how we plan to handle E3 this year.  First off I'd like to thank you! Without you we wouldn't be able to even cover E3, let alone get four people in!  That's already double the amount of people from last year which means more coverage for you! All that along with podcasts and videos we're sure we can be the place for your E3 needs.  What are you excited about for this E3?
How to Navigate Through Our E3 Coverage
At the top of website, next to the "Home" menu is the newly added E3 2013 menu. If you hover your mouse over the E3 2013 menu, a drop-down menu will appear with options such as E3 News, E3 Hands-on Impressions, E3 Trailers, and more. If you are looking for console specific E3 content, simply click your console of choice via the menu options at the top of the website just like you normally would. Since it's E3, most everything we are covering will be E3 related.
When And Where To Watch The Streams
Check out this article here for a list of all of the various streaming events, the times, and links to where you can watch them:
E3 Streaming Schedules
What We Are Covering
Last year, we decided since we were going to cover E3, we were going to cover as much as humanly possible instead of just limiting ourselves to just "niche" games.  With this year we intend to do the same.  So what does that mean? Does that mean suddenly we're going to post articles about Call of Duty every 5 seconds?!? To put it short, HELL NO.  Our priority will still be niche titles, that will always be number one for us, but what it does mean is to expect some titles that are a little more mainstream.  But one thing we will promise is we won't cover Call of Duty, Battlefield, or sports games.  It's not that we don't like those games (I'm personally a huge Battlefield fan) it's that they're going to be covered to death by other websites. So why bother?
For press conferences it'll be much like how we handle Nintendo Directs which is an article for each conference outlining all the news to come out of it.
Check Out Our Pre-Order Guide
Our Pre-Order Guide has all the links to the hottest new games and consoles that you can pre-order now.
Events and Booths We'll be Checking Out For Sure
Nintendo's Press Event
Microsoft's Conference
Sony Press Conference (unconfirmed)
Sega
Square-Enix
Rising Star Games
Aksys
Atlus
Cd Project RED
Electronic Arts
Kemco
Snail Games
NIS America
XSEED Games
Hyperkin
And many more!
Our Loose Schedule for Visiting Events and Booths (Schedule is Tentative) Updated 06/08
Monday June 10th:
-Microsoft Press Conference
-EA Press Conference "The Download"
Time: 1:00pm-2:00pm
-Sony Press Conference (Possible: Not Yet Confirmed)
Time: 6:00pm-8:00pm
Tuesday, June 11th:
-Nintendo Direct, 7:00am
-Nintendo Press Only Event – 10:30am
E3 OFFICIALLY OPENS AT 12PM NOON.
-Witcher 3 with Projekt Red – 1:00pm-2:00pm confirmed
-Square-Enix Booth, 3:00pm-4:30/5:00pm confirmed
Wednesday, June 12th:
-Hyperkin, 10 am confirmed
-Kemco, 11 am confirmed
-XSEED Games, 12:30-2:00 pm, confirmed
-SOE booth tour, 1:00 pm confirmed
-Sega booth tour, 2:30 pm confirmed
-Nintendo Booth Tour confirmed
Thursday, June 13th:
-Snail Games, 11 am confirmed
-Muteki Corp., 12 pm
-NIS America, 1:30 pm
Times to be Determined:
- Aksys Games
-Atlus
-Capcom
-Indiecade Showcase
-Ouya
-Tecmo Koei
oprainfall on Twitter
Follow our oprainfall E3 journalists on Twitter for live E3 updates:
oprainfall- @oprainfall (https://twitter NULL.com/oprainfall)
Jared Cyhowski- @JaredCyhowski (https://twitter NULL.com/JaredCyhowski)
Richard Ross- @TooRichieRich (https://twitter NULL.com/TooRichieRich)
Jonathan Higgins- @radical_defect (https://twitter NULL.com/radical_defect)
Scott MacDonald- @SGM_oprain  (https://twitter NULL.com/SGM_oprain)