Nicalis has been hard at work on titles like 1001 Spikes (http://www NULL.youtube NULL.com/watch?v=E0OWjhHTz-M), Yataragasu, and 90s Arcade Racer (https://twitter NULL.com/nicalis/status/393867527249346561/photo/1), but that doesn't mean they've forgotten about Cave Story. And I'm not talking about the fact that Quote was featured in RUNNER2 DLC either. They posed a question on Twitter (https://twitter NULL.com/nicalis) that I'm curious to hear your answers to.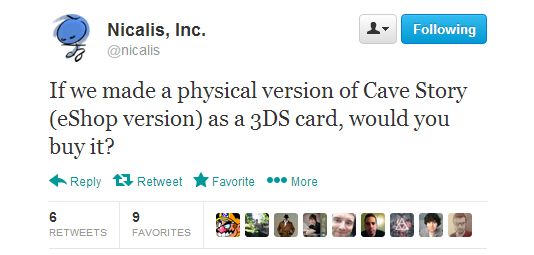 Between the version available on the 3DS eShop and Cave Story+ on Steam, you really can't go wrong. I'm still waiting to hear an update about the super-awesome-looking Cave Story USBs they announced a while back (https://twitter NULL.com/nicalis/status/359762110131077121/photo/1). Knowing that there are many versions of Cave Story in the wild already, what would it take for you to buy a physical copy of the game? Do you think Cave Story 3D has that base covered already?
Sound off in the comments below, and be sure to let Nicalis know how you feel as well! If you're looking for more Nicalis on oprainfall, we've covered NightSky, Ikachan, VVVVVV and some other odds and ends. And if you're looking for more Cave Story… let's just say I've got you covered. (Expect even more soon; is this the part where I tease an upcoming Building Character?)
If anything comes from Nicalis, we'll be sure to keep you updated.
SOURCE (https://twitter NULL.com/nicalis/status/394985642196611072)