Chrono Cross: The Destruction of the World
There are numerous reasons why this game isn't as widely renowned as the one to come before it. Chief among these reasons are the absence of key developers from Chrono Trigger. Even though Kato returns as writer and Mitsuda returns as composer (in my opinion, the music and writing are the most important philosophical components of a game), many fans critique…almost everything else about the game.
But…why is this, really? I've gone on record as having problems with the various gameplay elements in Chrono Cross, but none of these things are inherently flawed. And Chrono Cross is still a very good game at its core (for its time). I've contemplated for a long while and arrived at the following conclusion: People are upset with Chrono Cross because it is a departure, in every single conceivable way, from the beloved journey of Crono, Marle, and Lucca.
The battle and experience system: completely overhauled. The art style: completely different. The nature of traveling through time: rejected, in favor of discussing one young man's role in a parallel present-time of 1020AD in which he doesn't belong.
Oh, right: And all the characters from Chrono Trigger are either confirmed dead, believed to be dead, or just plain missing from the story, despite the project being helmed by the writer who put the most thought into the first game.
What does this scene, which takes place in Lucca's house from Chrono Trigger, tell us about its sequel as a whole? Everything burns. This is the one time in the entire game that Kato allowed the player to travel back in time, and rather than prevent this tragedy (as you no doubt would be granted the capacity to do in Chrono Trigger), Serge can only manage to rescue Kid from the scenes that tormented her most as a child.
Everything burns. Remember that uplifting quest from the previous game? It only takes one fluke in time's flow to undo all your efforts. That fluke is offered unto the player and anyone who travels to the Dead Sea in the game's "Home World" first-hand…where figments of beloved characters Crono, Marle, and Lucca appear…and proceed to berate Serge for causing the destruction of the world.
The Player's Relationship to Serge
The characterization of Crono relies entirely on player interpretation. What he says, how he acts, and ultimately whether he lives or dies in the plot of Chrono Trigger is entirely dependent on the player. No evidence as to how he feels is ever offered in the game.
Serge is…quite different, in that respect. He is developed just like any other major character in the game, and his reaction to certain events is much more visible than Crono's ever were. Crono is a reflection of the player, while Serge is just being controlled by the player, nothing more.
When Crono dies, control of him is taken away from the player, but his connections remain. Whether Crono remains dead or alive, the player still has full control over his friends (if not moreso, with the third slot in the party becoming open to anyone beyond the [Lavos Beckons] event. But…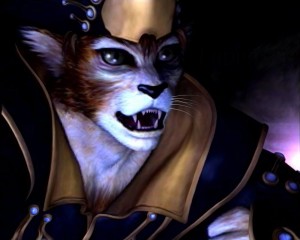 …Chrono Cross takes control of Serge away from the player as well. And when that happens, all prior connections to Serge are lost. It's worth noting that Serge saw the event that changed the course of the game coming, and the player was reminded over and over again. But…no matter what happens, Serge could not change his fate.
Even characters that witnessed the exchange between Serge, Lynx, and Kid will not join your party if you are still Lynx. Even when it makes all the sense in the world for a character like Glenn (who has a strong personal relationship with Lady Riddel, could have possibly witnessed Serge and Lynx switch bodies, and is further influenced by Karsh) to join with Lynx at a certain point in your quest, he refuses to do so…because Lynx isn't Serge.
When Serge becomes Lynx (who you cannot name when you play as him, despite being given free reign over 47 other playable characters), the player loses all possible connections to Serge. And what's more, Serge continues to develop (whether it be as Dark Serge goes on a rampage in Another World, or as Lynx is still called "Serge" to folks who know it's him in the Home World), despite being absent from the player's control. The player's relationship to Serge is one of the craziest of its time; perhaps the reason Chrono Cross is so disliked is because you actually spend more of the plot controlling Lynx than you do Serge.
Miguel and The Dead Sea
There is no scene more telling of the nature of how Chrono Cross operates than the entire Dead Sea sequence, leading up to the player's battle against Miguel.
The graphics of Chrono Trigger are fantastic, and they age well. But to see a similar world to the one presented via Chrono Trigger's 2300AD, in a much more fully realized way, was shocking to series fans. Even Johnny, the futuristic robot that never did any harm, could not be spared. Seriously, the plot of Cross is ruthless when it comes to denying or taking away things, people, or places that the player once held dear.
The entire journey through the Dead Sea was surreal, dark. But I felt as though I would be offered light at the end of the tunnel when a Dimensional Vortex (probably a Gate), lead to the outside world and I was greeted by twilight as opposed to the murky skies of the futuristic world.
The plot of Chrono Cross is extremely complex and labyrinthine. Between parallel universes, and individual places being dragged from various futures to 1020AD by either Belthasar or the planet itself, it's quite easy for the player to feel lost. There is obvious loss when all of Serge's allies are gone the moment the player is given control of Lynx. As soon as the player is given access to more of the world map in the Home World, he or she begins to feel the loss of other characters (such as Van being poor or Viper Manor being in ruins). Dedicated fans are lost to the fact that the legendary Masamune, once a sword to repel evil, has become evil itself.
But there is honestly no greater sense of loss than when Lynx approaches a lone, fallen bell in the middle of the screen that reads 1000 AD, Nadia's Bell, May our prayers for peace ring on for eternity.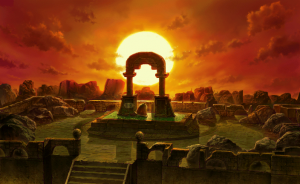 It is here that the player, after seeing glimpses of these apparitions from afar, first encounters Crono, Marle, and Lucca in Chrono Cross. These characters, which presumably resonate deep within the player, begin to antagonize Serge for single-handedly causing the future just witnessed by everyone. That's…pretty heavy to cope with. Is the player controlling a character that manages to undue his or her actions in the previous game?!
Miguel appears to quell the anger of "ones far gone", but his words are far from comforting. Beyond all the artistic integrity of Chrono Trigger, it offered implicit messages of hope through the actions of Crono and his friends. But Chrono Cross is in stark contrast of this notion: Miguel's point of view, when stripped down, is very explicit, in your face philosophy that amounts to nihilism at best.
   History is composed of
   choices and divergences.
   Each choice you make
   creates a new world and
   brings forth a new future.
   But at the same time,
   you're eliminating a
   different future with the
   choices you didn't make.
 
   …It is all part of
   the grand game of the gods...
   and 'goddesses!'
   People are dragged into playing
   this game...forced to put their
   own lives on the line...without
   even knowing the rules.
   Without even being allowed to
   complain, they try to do their
   best under the conditions
   placed upon them...
   The only alternative is to give
   up and leave the playing field
   in a forfeit...
From Chrono Cross, courtesy of  ZeaLitY (http://www

 NULL

.gamefaqs

 NULL

.com/ps/196917-chrono-cross/faqs/37862):

Miguel's words on their own are philosophical gold for those who draw power from emotion in video games. But there is a potential for an even bigger revelation to take place here. What if Miguel is actually Crono (http://www NULL.chronocompendium NULL.com/Term/Miguel_(Identity_of) NULL.html)? Kato doesn't present much evidence for or against this speculation, but considering the scenery and Miguel's appearance, I've always perceived him to be.
So, with the fight against Miguel, the player comes face to face with the hero he or she controlled in the previous game, sees his extremely tragic circumstances (and for the first time is given insight into how Crono feels), and then is left with no choice but to strike him down.
Everything burns. And according to Miguel, we are all Prisoners of Fate.
The Fate of the World After Chrono Cross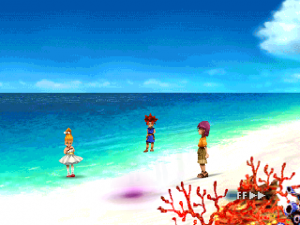 Chrono Cross is truly the darkness to counter Chrono Trigger's light. And, in a similar opposition, the ending of Cross is quite possibly one of the most speculative endings of its time. Serge succeeds in unifying the two dimensions and freeing Schala from Lavos. Schala imparts some positivity (showing that her struggle has at least, finally been resolved) and tells Serge everything will be fine, and that he'll have no memories of his journey.
Except he remembers everything. The end. There's no resolution here, outside of a brief look inside Schala's no longer ailing heart. Everything is left up to speculation, and considering the complex nature of time and the relationships established within both games—no speculation could ever be proven right or invalidated. Chrono Trigger ended on an ultimately happy note…but because of the way Chrono Cross ends, the player is more likely to take away its darkest moments than its resolution that offers a peek at light once again.
Essentially, Chrono Cross embodies hopelessness. And rather than wrap up my analysis of Chrono Cross with a few well-placed words, I shall elect to do so through music. In this piece from the popular Symphonic Fantasies concert series, fans of the Chrono games are treated to a medley that mixes themes from both games. While hearing orchestrated versions of Scars of Time and Chrono Trigger intertwine is a nice treat, nothing embodies the perfect marriage of hopefulness and hopelessness in the two games than this medley's cross between Prisoners of Fate and To Far Away Times (9:13 – 12:30)
A Brief Discussion of Chrono Break, and Concluding….