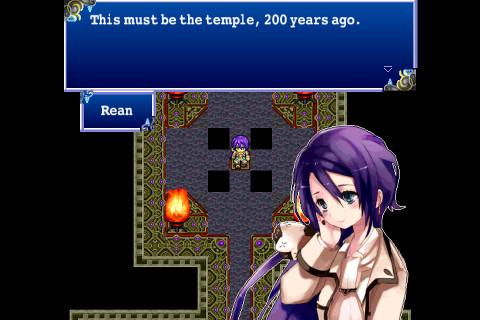 Aeon Avenger (http://www NULL.kemco NULL.jp/sp/games/er/en/index NULL.html) is a JRPG for mobile systems that was first released in the West by Kemco (http://www NULL.kemco-games NULL.com/) back in 2011. It's been an Android-exclusive game since then—until now, that is. Fans of JRPGs and gaming on the go can now purchase Aeon Avenger for their iPhone or iPad from the App Store. To celebrate the release, Kemco has discounted the game's price to $2.99 (USD/CAD) from its usual $7.99 for a limited time.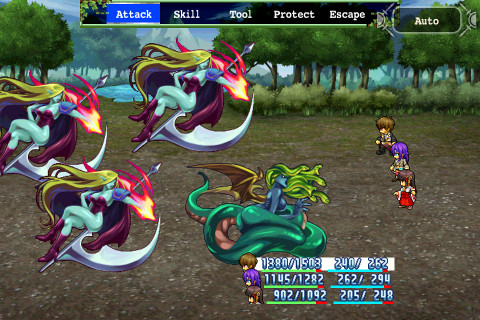 The gameplay in Aeon Avenger relies heavily on time travel. Players will have to jump between three different eras in order to meet new characters, solve problems, and even improve their weapons. The main character, Lake, starts the game bent on avenging his family's death and his home's destruction at the hands of a mysterious stranger clad in black. Along the way, he stumbles upon a girl who hails from a tribe that knows the secrets of time travel—and from there, one can only guess that things get more interesting and more complicated for our protagonist.
It's not certain how long the sale will last, so you'd best pick it up quickly if you're interested in giving it a try. There's no hopping back in time for you if you miss it. Android gamers can also pick up the game in the Google Play store for a discount: $3.99, down from the initial $7.99 price point.
To learn more, read the full press release below.
Pick up the game from the App Store! (https://itunes NULL.apple NULL.com/app/shi-kongnoaineraize/id482885015)
Pick up the game from Google Play! (https://play NULL.google NULL.com/store/apps/details?id=kemco NULL.wws NULL.einereise)
---
Aeon Avenger for iPhone™
February 15th, 2013 Japan Standard Time

(http://www NULL.kemco NULL.jp/sp/games/er/en/index NULL.html)
Fly at will through past, present, and future!
KEMCO proudly announces the release of 'Aeon Avenger' set to hit the App Store™ today!
The normal price is $7.99, but to celebrate the release it is downloadable for just $2.99!
Story
A young man named Lake lost both his home and family when a mysterious man in black attacked his village. Revenge became his one purpose in life. One day, he met a woman from a tribe which kept the secrets of time travel. His destiny was about to change forever… Who is the Man in Black, who leads a host of monsters? A great story, spanning 3 eras, present, past and future!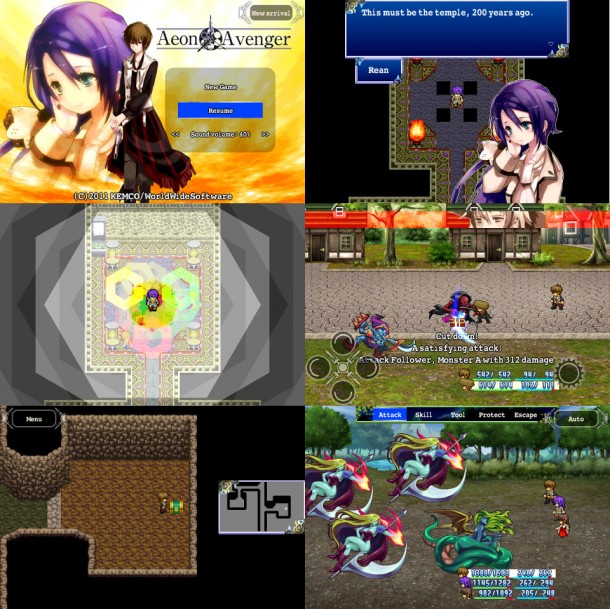 Fly through space-time using time travel
Time travel across the three eras, past, present and future is a key part of this story. You may be able to find the solution to a problem in one era by traveling to another. Study the characteristics of each era to time-travel effectively.
Totally enjoyable genuine JRPG
You'll enjoy battle in the genuine JRPG style by entering commands to make characters attack. Enemy and companion graphics in high resolution allow easy, comfortable play. Battles move at a good pace, without stressful waits. Make exhilarating attacks on your enemies with the powerful skills you'll acquire!
Strengthen your weapons
You can strengthen your weapons by attaching accessories called " bits." Bits will let you use secret techniques and even attack all enemies at once. Try various combinations. By time-traveling, you can even evolve the bit.
Characters you will meet across time-space
The main character Lake will meet various characters in each era. Each one has his or her own worries and problems, drawing each of them into Lake's dramatic story. Each character's story is entangled with the other's… engrossing and entertaining to the very end!
More
Official Page (http://www NULL.kemco NULL.jp/sp/games/er/en/index NULL.html) | Gameplay Video (http://www NULL.youtube NULL.com/watch?v=3_p4wmrWCr4) | Contact Us (http://www NULL.kemco-games NULL.com/global/contact NULL.html)

(https://itunes NULL.apple NULL.com/app/shi-kongnoaineraize/id482885015?mt=8)
©2011 KEMCO/WorldWideSoftware
App Store is a service mark of Apple Inc.
iPhone, iPod Touch and iPad are trademarks of Apple Inc., registered in the U.S. and other countries.