NeoGAF (http://www NULL.neogaf NULL.com/forum/showthread NULL.php?t=526473), thanks to their usual snooping, discovered a link to Dragon Quest X: Rise of the Five Tribes Online  (http://www NULL.amazon NULL.fr/Square-Enix-Dragon-Quest-X/dp/B009FBMM3I/ref=sr_1_1?s=videogames&ie=UTF8&qid=1363730189&sr=1-1&tag=vglnk-fr-c74-21)on Amazon France. This link to the Wii U version of the game, although quite barren, features a PEGI 12 Rating for the game. I know it's not exactly a confirmation from Square-Enix, but clearly this game is showing some signs of life outside of Japan.
When you first read the headline of this article, you probably thought, "But it's not Bravely Default!" I know, and I'm with you on that, but…methinks this new leak…err…development… could lead to news quite a few of us have been waiting for.
Here's a screen cap of the link in case it gets taken down at some point: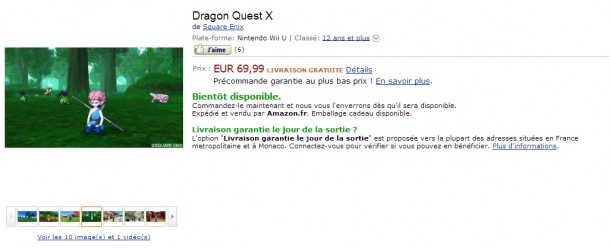 So, there's that. Are we excited? Who wants to take bets for an official announcement from Square-Enix for both Dragon Quest X and Bravely Default at E3 this year? Here's to hope, ladies and gentlemen; it springs eternal.