Now that everyone is getting back into their routine after Thanksgiving, we wanted to share with you the very first North American teaser trailer for Etrian Odyssey IV: Legends of the Titan.
For centuries, the tree Yggdrasil has been a constant presence in the lives of the people of Tharsis. It looms on the horizon, visible from everywhere in the city. But its roots are in a far-off land where no one has ventured until the Outland Count of Tharsis sponsors an Explorers Guild to reach Yggdrasil and discover its secrets. You are the latest explorer arriving in Tharsis to seek your fame and fortune. Board your skyship and set out into the clouds in search of treasure, glory, and the answer to Tharsis' oldest mystery.
Celebrate the tradition of classic pen and paper role-playing games by using the bottom touch screen to chart out your path, create maps, and identify the dangers you have encountered. A deep character creation and party customization system encourages experimentation and rewards creativity and imagination. Etrian Odyssey IV is packed with improvements and content including an enhanced graphics engine; upgradeable and customizable skyships that let players travel and battle amid the clouds; an exceedingly atmospheric and fully orchestrated musical score from Yuzo Koshiro; expanded, more immersive 3D dungeons with analog camera control; and guild card + character trading functionality via StreetPass.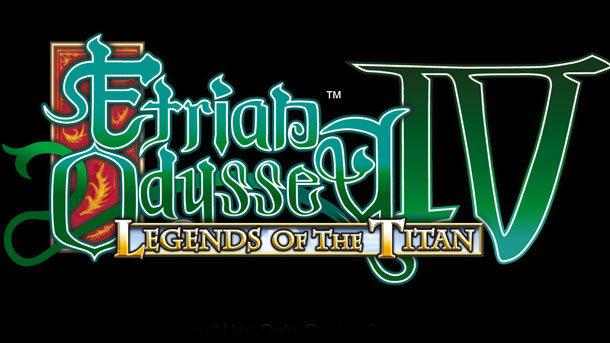 Also in case you missed it last week, ATLUS announced a limited edition art book and music CD as bonus items to accompany any pre-order or retail purchase of Etrian Odyssey IV (while supplies last). More details on the bonus are
available. ( http://www

NULL

.atlus

NULL

.com/etrian4/purchase

NULL

.html)
Check out a two-page preview sample of the
art book ( http://issuu

NULL

.com/atlususa/docs/etrian4artbook )
.
Etrian Odyssey IV will be available at retail and on Nintendo eShop for digital download on February 26, 2013 across North America. Visit the
official site
for more info.
Be sure to like Atlus USA on
Facebook. ( http://www

NULL

.facebook

NULL

.com/atlususa)
Remember to follow Atlus on
Twitter. ( http://twitter

NULL

.com/#!/atlususa)
Don't forget to
pre-order (http://atlus

NULL

.com/etrian4/purchase

NULL

.html)
today.