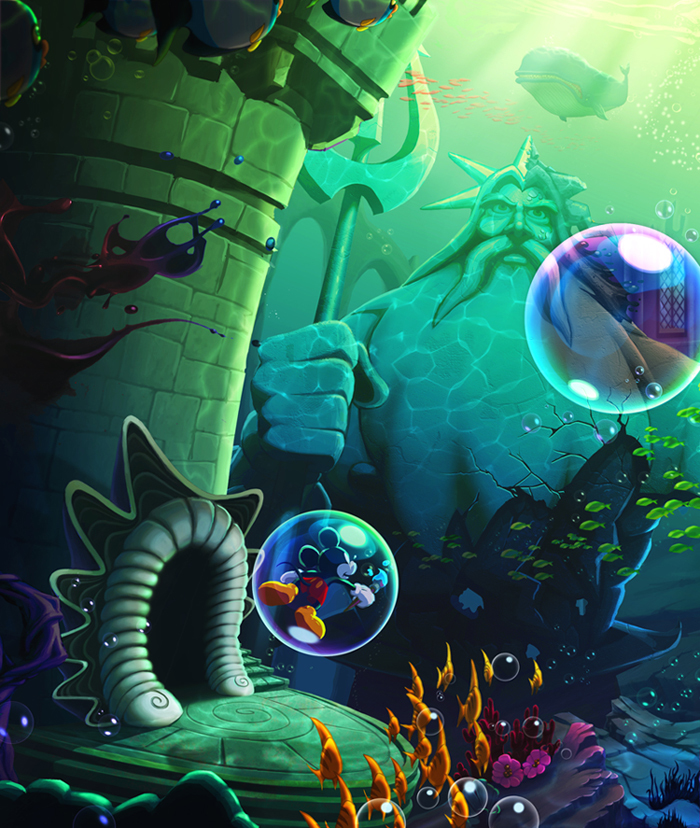 Recently, Nintendo World Report conducted an interview with DreamRift's Creative Director, Peter Ong, over some info on the upcoming 3DS game, Epic Mickey: Power of Illusion. In the interview, Peter Ong discusses how the idea of the game came about; he wanted to make it themed closer to the original Sega Genesis Mickey Mouse game, Castle of Illusion, as well as potentially other 16-bit and 8-bit Disney games.
"PO [Peter Ong]: I'm not sure if I'm allowed to talk about directly referencing things from the other games, but I think that people that are fans of the 16-bit and 8-bit Capcom games, like Ducktales, will be happy. I mean, Scrooge McDuck is in this game."
The game still revolves greatly around the themes of Epic Mickey, primarily with the continued use of the paint and thinner, giving the player the ability to solve puzzles as well as to move along throughout the level. However, the visual aspect as well as even the musical aspect pays homage to Castle of Illusion, with Peter Ong stating, "What we were very excited about with the musical approach is that we wanted to pay tribute to the original compositions and tunes that are our favorites in Castle of Illusion. Like the very first level in the final build of the game is the first level tune in the forest from the original Castle of Illusion game."
Also revealed is one of the playable worlds, revolving around Agrabah from Aladdin, with focus on the Marketplace/Streets of Agrabah as well as the Cave of Wonders. The level designer for Agrabah, Ara Shirinian, even hinted at a Metroid reference, but without giving any details as to what to expect.
So for those who grew up or became fans of the classic Mickey Mouse Sega Genesis game can have a little bit more nostalgia when they get their hands on this game on November 18th.
---
3DS
Disney
Epic Mickey: The Power of Illusion
---
---